Civic arms of Wanfried, Germany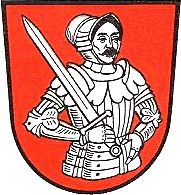 Wanfried received city rights in 1608 by Viscount Moritz of Hessen, but the oldest seal already dates from 1578.
The seal shows the knight with a sword and spear. Ever since the knight has been the arms of the city. The image itself has changed considerably, sometimes a whole knight, sometimes a torso, with or without spear etc.
The present image has been in use since the end of the 19th century.
The origin of the knight is not known. It has been stated in a document from 1613 that it is St. Bonifatius, but this is not likely.
It has also been explained as a canting symbol (Wahr'n Fried, or peace-keeper), but the origin remains uncertain.
---
Source: Ralf Hartemink, who credits Stadler, K. : Deutsche Wappen - Bundesrepublik Deutschland. Angelsachsen Verlag, 1964-1971, 8 volumes.
Hartemink maintains the exellent International Civic Arms website at :
www.bng.nl/ngw/indexgb.htm
---
Back to wanfried.com home page
---
This site is owned and operated by Kurt Wanfried, who can be contacted at: kw@wanfried.com
He would like to hear from any Wanfried or anyone who lives in Wanfried, Germany